If you're getting ready to make the move to New York City, there are a few things to think about before doing so, including which neighborhood is best for you. If you're looking for a trendy and exciting place to live, then Tribeca might just be the right fit for you. Tribeca is characterized by industrial buildings that have been transformed into living spaces, along with cobblestone streets lined with upscale boutiques and chef-driven eateries.

There's plenty of reasons that people love living in this eclectic neighborhood. Luckily, we're here to tell you about a few of them. From beautiful architecture to loft living, read on to learn eight reasons people love living in Tribeca.


1. Rich History
Tribeca is one of New York's oldest neighborhoods, with buildings dating back as far as 1884. Once a heavily industrial part of town, it eventually evolved into residential neighborhoods in the 1980s and 1990s. In addition to being home to some of the city's oldest buildings, it is also home to some of New York City's tallest buildings and priciest sales.

According to Forbes, Tribeca currently has the most expensive sales market in Manhattan. Since its beginnings, Tribeca has transformed into one of the city's most upscale and elite neighborhoods to purchase a home. Because of this, the community is a friendly, safe, and exciting place to call home.
2. Architecture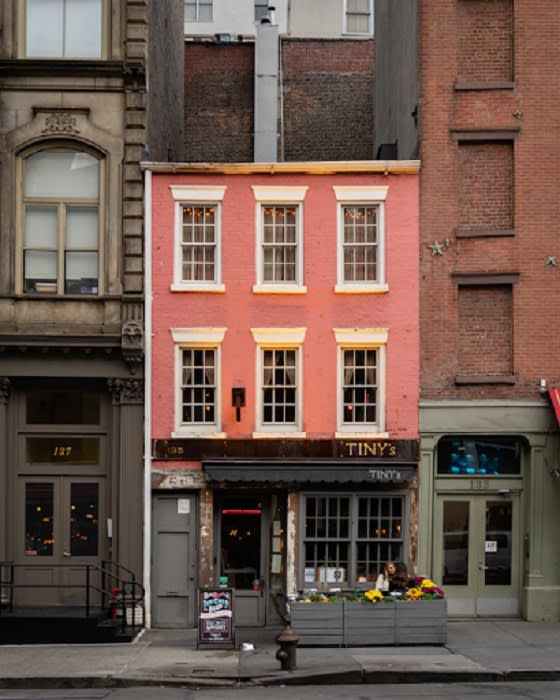 A walk around this exclusive neighborhood will reveal some stunning architecture that is worth taking note of. Much of Tribeca's pre-Civil War architecture is still intact within five land-marked districts. This neighborhood also boasts one of the world's largest collections of Neo-Grec designs, wrought-iron facades, and loft-style low rises.

These architectural gems are the legacy of the now-defunct textile merchant industry that thrived from 1850 to 1890. Developers have successfully converted most of Tribeca's old warehouse buildings into luxury condos and rentals, so if you're interested in loft living, then this is the neighborhood for you!
3. Loft Living
Tribeca once served as an industrial part of the city, but those industrial buildings have now been transformed into residential loft space. There's plenty of perks to loft living, starting with high ceilings. Lofts typically have vaulted ceilings stretching from 10-foot to 16-foot ceilings, making an ordinary space feeling significantly larger. If you're someone who easily gets claustrophobic, then you'll especially love this added space.

High ceilings also mean more windows, which means that you can expect ample natural light streaming in. This natural light will not only create a warm aesthetic but there's plenty of health benefits of natural light.

Last - but certainly not least - lofts are known for having a flexible layout and ample amounts of space. They are typically open-concept since there are generally few interior walls to divide the rooms. This is an excellent option for people who are tired of cramming into small apartments or want more space to entertain guests. Needless to say, there's plenty of advantages to loft living.
4. Parks and Green Spaces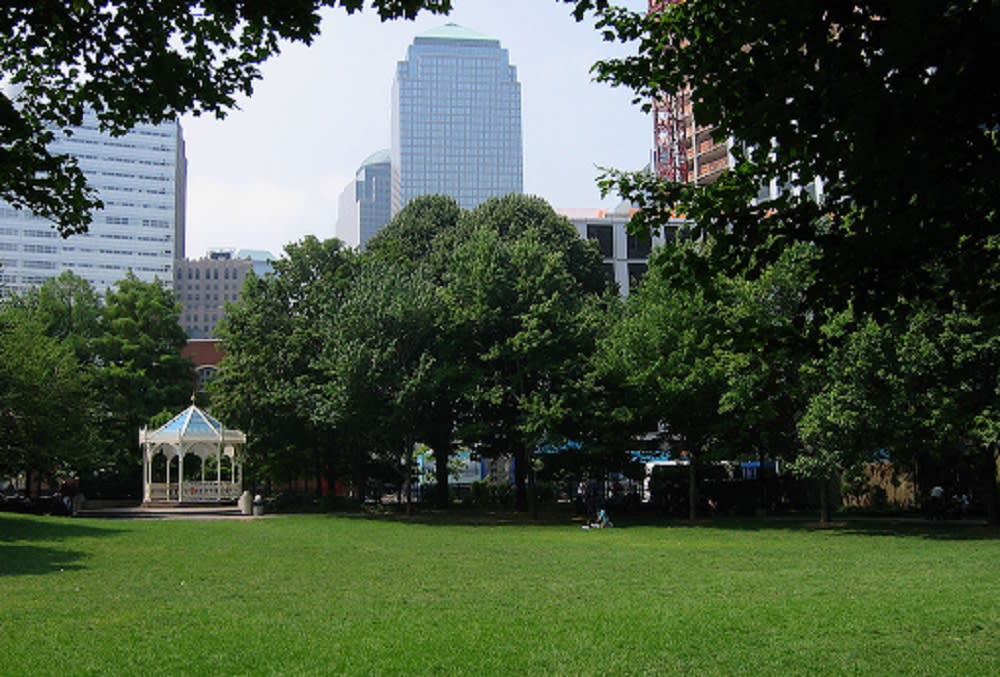 Credit: Wikipedia (Washington Market Park)

New York might be a big and bustling city, but it still provides residents with plenty of ways to connect with nature. If you're looking to spend a sunny day outdoors, then head over to Washington Market Park. This urban park, located in the heart of Tribeca, covers 1.61-acres. It is bounded by Greenwich, Chambers, and West streets.

The park features community gardens, three playgrounds, basketball courts, a tennis court, a butterfly garden, and a gazebo for hosting events and parties. The luscious, great lawn also provides the perfect space for picnicking, reading a book, or simply resting in the warm sunshine. This park has something for everyone! The park also hosts many community events, including a concert series, movie nights, pumpkin carving contests, and plenty more. The park is open from 7 am until dusk, seven days a week.

Hudson River Park is another spot that is worth exploring, and it provides a much-needed escape from the hustle and bustle of city life. This riverfront park spans over 550 acres and spans for 4 miles along the west side of Manhattan. It extends from the northern boundary of Battery Park City in Tribeca to W 59 St. in Hell's Kitchen.

This urban recreational paradise is the largest open space in Manhattan since the completion of Central Park. The park provides an oasis for locals and visitors alike, with various recreational and educational activities. With so much to offer, it's no surprise that Hudson River Park attracts over 17 million visitors each year.
5. Dining Establishments
There's never a shortage of things to do in Tribeca, and that includes places to eat! Whether you're looking for an upscale culinary experience or a hole-in-the-wall cafe, you can find that - and everything in between - here.

If you're in the mood for some home-cooked Italian food, then head on over to Locanda Verde. The menu features an assortment of Italian staples, all served in a cozy and welcoming environment. Here you can find dishes, such as the blue crab crostini, goat cheese tortellini, and potato gnocchi. For dessert, consider ordering the dark chocolate dart or the strawberry zabaglione; both are mouth-watering options. You'll be impressed with the top-notch customer service, the delicious meal, and the intimate ambiance at Locanda Verde.

If you're in the mood for something a bit more casual, then stop by Gotan. This is your one-stop-shop for eating, meeting, and working. Gotan specializes in sandwiches and salads with a slight Mediterranean twist. The casual environment and WIFI make this a great spot to sit down and stay a while!

Finally, nothing says New York City like a bagel and lox, which you can experience at Zucker's Bagels and Smoked Fish. This small takeout operation has been serving up some of the best bagels since opening in 2006. They hand-roll and kettle-boil their bagels daily, so you can start your morning off with fresh and warm bagels.
6. Coffee Shops
There's nothing like starting your morning with a delicious cup of coffee! Lucky for you, Tribeca is filled with a plethora of great coffee shops that are all within walking distance.

Interlude Coffee & Tea, located on Hudson Street, is a trendy counter known for its hip baristas and inviting ambiance. They offer high-quality coffee, tea, and matcha. If you're hungry or craving something sweet, consider grabbing a home-baked pastry, such as the Blueberry Maple Muffin or the Malted Chocolate cookie. No matter what you get, you won't be disappointed!

Meanwhile, La Colombe Coffee Roasters is another excellent spot that is worth exploring. This Tribeca coffee shop serves house-brand artisanal coffee, pastries, and snacks. If you're unsure of what to get or need a recommendation, the knowledgeable and friendly staff will be more than happy to provide you with suggestions. Before you know it, you might just be a regular at this popping place.
7. Walkability
One of the top reasons people love living in New York City is the walkability, and Tribeca is no exception. There's no need for a car when living here. Plus, walking has many health benefits, including burning calories, lowering blood sugar, and boosting your energy.

Lucky for you, Tribeca is a walker's paradise and boasts a walk score of 99. As the most walkable city in the United States with excellent public transportation, there's no need for a car when living in New York City. This makes it another reason that people love living here.
8. Activities and Entertainment
Life in Tribeca is far from boring! For a fun night out on the town, head over to The Django. Located under the Roxy Hotel, this is a chic, Paris-inspired jazz venue and cocktail bar with regular live acts. It's a great spot for going out with friends or a date night! To guarantee a spot, it's a good idea to reserve tickets in advance.

Additionally, if the weather permits, take a stroll down Pier 25. At 985 feet, Pier 25 is the longest in Hudson River Park. It includes the neighborhood's only mini-golf course, sand volleyball courts, a children's playground with water features and climbing structures, and plenty more. There's truly something for everyone here.

If you're looking for a home in Tribeca, contact the Piere Michel team today. Whether you're looking for a short-term rental or a forever home, this talented team can walk you through the process from start to finish and help you find a place that's right for you. With years of experience in the real estate industry and deep knowledge of Tribeca luxury real estate, this team can help you find a house that truly feels like home.